Are you replacing a toilet? It seems simple enough, but the toilet you install will be there for many years. Ray May plumbing has experts to guide you through your purchase and installment. We have a fully stocked and remodeled plumbing showroom, open to the public, with friendly and knowledgeable staff to help you make the right choice.
One-Piece or Two-Piece Toilets, Ray May is Ready To Help You Choose!
One-piece toilets and two-piece toilets are available. Two-piece toilets are connected at the tank and the bowl. One-piece toilets have no separation between the tank and the bowl. Compared to two-piece toilets, one-piece toilets are much sleeker in design and have a modern look. Additionally, a two-piece toilet has seals between the tank and the bowl, which can deteriorate after many years, whereas one-piece toilets inherently do not have these seals. Another great feature of one-piece toilets is the toilet seat usually comes with the toilet instead of having to purchase it separately.
Two-piece toilets tend to be less expensive. They also come in various sizes, colors, and shapes. The size, shape, and color of your bathroom will significantly depend on your chosen toilet.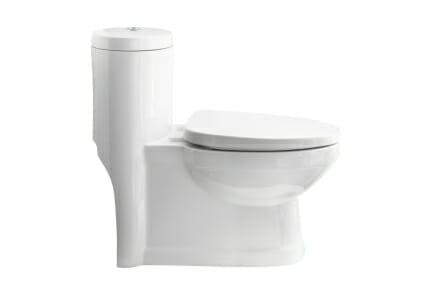 A round toilet is classified as such because it has a round bowl. Additionally, the toilet is relatively small, which works well in smaller bathrooms where the door may hit the toilet if it were larger. Whether a two-piece toilet or a one-piece toilet, smaller toilet bowls have smaller toilet seats, and many complain about discomfort when using a smaller toilet.
Elongated toilets are less common in residential settings. Conversely, they are much more comfortable to sit on. The elongated toilet provides much more room to sit and is the customer's choice for toilets.
Commercial plumbing applications and toilets are slightly different. According to the American Disabilities Act (ADA), guidelines to accommodate handicapped, elongated toilet bowls are required. In addition, the elongated toilet must be higher than a standard residential toilet.
The ADA-compliant elongated toilet must be 17″ to 19″ from the rim of the toilet to the ground. Residential plumbing standards do not dictate a height, but the toilet is typically 14″ from the toilet rim to the ground. However, a huge trend is hitting the market, and residential customers are installing ADA-compliant toilets in residential applications. Many customers are raving about the extra comfort of a taller elongated toilet.
Ray May Plumbing is proud to say that we have every detail and the most knowledgeable staff in the Inland Empire to help you with every detail.
As we mentioned, our plumbing showroom has mock-ups of many types and sizes of toilets, showerheads, shower valves, sinks, countertops, full bathroom exhibits, and much more. We are very competitive with our pricing and have ten times the selection of the "Big Box" stores. Call us or stop by, and we will be glad to spend as much time as you need picking out your new plumbing supplies or products.