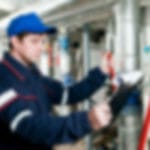 Commercial plumbing of any sort can be a challenge. Let us relieve you of that stress…
Ray May Plumbing offers plumbers for all of your commercial plumbing needs. Our experienced plumbers are committed to doing the job the right way the first time. Our industrial plumbing division has a reputation for quoting jobs accurately and fixing a wide range of plumbing problems quickly and efficiently.
Commercial Plumbing Services
Our services include emergency response, normal service calls, remodeling, tenant improvements, and preventative maintenance inspections. For example, many of our commercial service calls are for items such as drains, faucets, grease traps, sand interceptors, and installation and repair of service piping for kitchen operations.
Our plumbers are experts at bidding on jobs that are large or small. Ray May Plumbing will provide free estimates on remodels and new construction on any commercial plumbing project. We remodel and repair bathroom facilities, including sinks, urinals, toilets, and floor drains.
Throughout our long history in Montclair, California, Our commercial plumbing division has completed plumbing projects for property management companies, real estate professionals, building owners, maintenance companies, colleges, and several large corporations.
Our Commercial Plumbing Services Are Guaranteed
All of our industrial plumbing services are guaranteed; we are licensed and bonded to handle large jobs that many small companies may not handle. Commercial Plumbing Maintenance Contracts are available at Ray May Plumbing. Give us a call, and we can customize a maintenance contract to fit your needs.
If you are struggling with a plumbing problem and other commercial plumbing companies have not been able to fix the issue, please give us a call. Our commitment to excellent service and our superior knowledge in the plumbing industry will shine, and we will fix the problem.
One of the great things about Ray May Plumbing is our plumbers are hourly rather than commission-based. As our customer, you have a strong commitment from Ray May that we will not try to sell you something you do not need.
Commercial Plumbers! We Have What You Need
Fixtures, Toilets, Faucets, Water Heaters, Re-circulation Systems, Sewage & Sump Pumps, Industrial Piping, Commercial Drains, and more!